We take care of family
---
August 2011 Newsletter | Fedelta Home Care, Seattle WA
August 02, 2011
August 2011 Newsletter
With cell phones, social networking, email and texting, Americans would seem to be more connected than ever before. And yet sociologists tell us that in certain ways, we are more isolated than we used to be. Modern communications technology can't take the place of the warmth and complex benefits of in-person interaction.
Seniors can be at greater risk of isolation and loneliness. Many live alone. Mobility challenges, vision problems, the loss of a spouse, and even retirement make it harder to stay connected. But spending time with others is crucial for physical health and quality of life. Fedelta Care Solutions encourages seniors to add socialization to their "to do" list, right along with nutrition and exercise. In this issue of Live Your Way, we'll share some of the latest research with you.

People Need People...At Every Age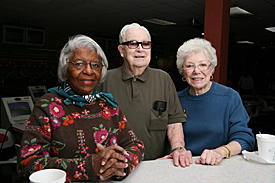 We humans are "hardwired" to crave and rely on human contact. From the moment of birth, we depend on each other. And the need does not decrease with age. Deprived of engagement with others, humans experience a condition that is surprisingly damaging and distressing: loneliness.
Why are social connections so vital in our later years? There are practical benefits, of course. Seniors with a network of friends can get a ride to the doctor, find someone to lend a hand with physical care, go out to dinner or for a walk with companions. And scientific studies now show that this is just the beginning. As University of Chicago researcher John Cacioppo says, "Chronic loneliness belongs among other health risk factors such as smoking, obesity or lack of exercise."
Could Socialization Be as Important as Exercise?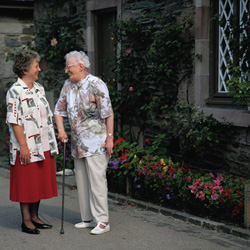 A recent Harvard School of Public Health study showed that lack of social connection is a major risk factor for poor senior health and disability. Researchers around the world are pinpointing the health benefits of social connections for seniors. Spending time with others...
Boosts the immune system. A UCLA study shows people with strong social connections have greater immunity against disease. The study's author, Steven Cole, says, "The biological impact of social isolation reaches down into some of our most basic internal processes."
Lowers blood pressure. Loneliness is stressful, and stress raises the level of hormones that lead to hypertension. Even sharing a simple conversation can be an instant stress buster.
Protects the brain. Using MRI brain scans, researchers can now observe the effects of social isolation. Studies show that an active social life increases blood flow to the brain, provides mental exercise, and even slows the development of memory problems and dementia.
Fights depression. Loneliness and depression are closely intertwined. Breaking the cycle by increasing social activity can "jump start" recovery, taking our minds off ourselves and providing healing stimulation.
Decreases pain. Social interaction has been shown to actually decrease the perception of pain from arthritis, osteoporosis and other common conditions. It increases the production of endorphins, our brain's natural pain killers.
Encourages exercise and nutrition. It's more fun to go for a walk or take an exercise class with a friend. And seniors who dine alone may skip meals, snack on junk food, or turn to overeating out of loneliness.
Says Bryan James, PhD, of Rush University Medical Center, "Social activity has long been recognized as an essential component of healthy aging, but we now have evidence that it is strongly related to better everyday functioning and less disability in old age."
Online Social Networking is Not Just for Kids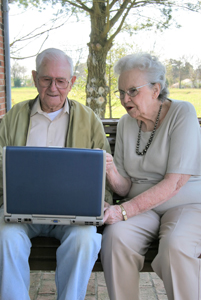 Did you know that people over 65 are the fastest growing group to take up email, Facebook, Twitter, blogging, Skype and other electronic communications? Nothing takes the place of in-person interaction. But more and more seniors are going online to keep in touch with friends and family.
Social networking sites such as Facebook are more user-friendly than ever. Families find that with a little help getting set up, older relatives can take advantage of these tools to feel more plugged in to family and community events. Senior centers and senior living communities now use social networking to connect participants and keep them up-to-date on activities and important information. Studies show that seniors who socialize online are also more likely to seek in-person social activities.
Research is underway to find out how effectively online connections meet the social needs of our later years. But one thing is already known: more and more seniors value these new technologies, as evidenced by the numbers using them.
Fedelta Five
Fedelta Care Solutions supports senior socialization:
Fedelta Care Solutions geriatric care managers help clients locate appropriate social opportunities, such as senior centers, classes and recreation programs.
Fedelta Care Solutions matches clients with compatible in-home caregivers, who provide companionship in the senior's own home.
Home care doesn't only take place at home! Professional in-home caregivers provide transportation so clients can visit friends, their faith community, the senior center, or continue their volunteer work.
Family relationships are enhanced when in-home care frees seniors and family to spend more quality time doing things they enjoy.
If an assisted living or other senior living community is the best choice, Fedelta eldercare advisors will provide a tour to match seniors with the ideal community.