We take care of family
---
December 2011 Newsletter | Fedelta Home Care, Seattle WA
December 06, 2011
December 2011 Newsletter
'Tis the season to enjoy time with family! No matter what your holiday traditions, we hope that you are finding time to think about what's most important: the loving relationships that span generations. We have our own special celebration during December. This year marks seven years that Fedelta eldercare specialists have been assisting seniors and family caregivers in our area. We have been inspired by the many families we've met over those years, and appreciate your trust in choosing us to support the well-being of your older loved one.
We know that the holidays can be stressful for anyone, and all the more so for those who are dealing with chronic health issues and disabilities. In this issue of the Fedelta eNewsletter, we'd like to share some suggestions for meaningful and peaceful holidays.

Supporting Alzheimer's Caregivers During the Holiday Season
For people with Alzheimer's disease and the family members who love them, the holidays can be a time of mixed feelings. Memories of holidays past are a reminder of the losses that come with the progression of the disease. And the challenge of providing care for their loved one leaves caregivers little extra time to deal with holiday tasks.
Tips for family caregivers. People with Alzheimer's usually do best when a routine is maintained—and the holidays are anything but routine. If you are a family caregiver, you are the best judge of the limits you need to set. The Alzheimer's Association points out that your situation is different now, and reminds you that you don't have to live up to the expectations of others. Simplify the holidays, and ask for help from friends and other family members. If possible, encourage friends and family to spend time with your loved one, even if it is just for a short visit. Even though your loved one may not remember the visit, the emotional benefits will last.
Tips for friends. Alzheimer's patients and families can feel abandoned when well-meaning or uncomfortable friends and relatives fail to include the person as they make their plans. Ask the caregiver what activities would work best for the person's current condition. Ask for advice on the best time of day to visit. Plan to spend some quiet time with the person. Offer what might be the best gift of all: stay with the person so family caregivers can get out for shopping, personal time or attend holiday celebrations.
Holiday "Lights"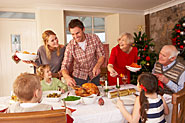 For most of us, the holiday season spells diet disaster! Parties and family get-togethers, Christmas candy, the ever-present fruitcake, and all those rich leftovers—it's the lucky celebrator who makes it through the month without decking the scale with a few extra pounds! An occasional splurge won't hurt us, of course, and what better time to break our diet a bit? But if your calendar is overloaded with holiday events that include food, here are a few tips to avoid developing a belly like Santa's:
Eat only the foods you really enjoy. Don't care for stuffing? Just take a taste.
Full portions of dessert aren't necessary. Just ask for a sliver of pie. Speaking of pie, pumpkin pie is the least fattening, with half the calories of pecan or mincemeat.
Go light on the gravy, or skip it altogether.
Avoid eggnog and alcoholic beverages. Sparkling water has no calories and won't stimulate your appetite like wine does.
Don't arrive hungry. Have a light snack before you leave for the party.
Home for the Holidays, Family May Notice Senior Loved Ones Need Help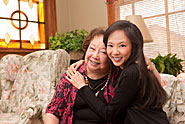 Many geriatric care managers, home care providers and senior service agencies report that November, December and January are times when they receive the most calls from family members who are concerned about an older relative. Thanksgiving, Christmas, Hanukkah and other winter celebrations are times when families get together from around the country—people who may not have seen senior loved ones for a while. When they realize that their loved one's condition has changed, they are confused about what to do.
What are the signs that a loved one may need help? Perhaps their health has taken a turn for the worse. They aren't paying as much attention to personal grooming as before. The home is no longer kept up, and there is little nourishing food in the kitchen. Bills may be piling up, and worse, there may be red flags that the senior is being scammed.
What should family do? If you begin a family discussion now, it is vital to include the senior him- or herself in the conversation. Look into local resources that can help the person continue to live successfully at home, such as home care, meals on wheels and other senior support services. If an assisted living or other senior living community seems like a good option, begin the search sooner rather than later. Remember that the goal is to keep your senior loved one safe while preserving their dignity and enabling them to maintain the highest level of independence possible. If this process doesn't seem to be going well, enlisting the help of a geriatric care manager or other professional can help settle disagreements and keep everyone on the same page.
Fedelta Five
When it becomes apparent that a senior loved one needs assistance, Fedelta Care Solutions can help:
Fedelta's geriatric care managers can help locate senior support services—many of which you might not have considered.
When family live at a distance, Fedelta care managers can coordinate care and services on an ongoing basis, keeping family informed and up-to-date.
Fedelta provides one-on-one nursing care for seniors who are dealing with chronic illness.
Fedelta in-home caregivers provide housekeeping, transportation, medication reminders, meal preparation and companionship.
If an assisted living or other senior living community is the best choice, Fedelta eldercare experts can provide free consultation, including a personal tour of the best options.