We take care of family
---
January 2012 Newsletter | Fedelta Home Care, Seattle WA
January 11, 2012
January 2012 Newsletter
Happy New Year to all our friends! We hope that the beginning of 2012 finds you in good spirits. Have you made your New Year's resolutions yet? If you are a senior or a family caregiver, we'd like to remind you that adding fall prevention to the top of your list is a great idea. Ongoing research confirms that falls are a serious threat to the health and well-being of older adults. Yet few seniors are aware of things they can do to lower the risk. In this issue of the Fedelta eNewsletter, we'd like to share some information to help seniors and families make fall prevention a top priority.

Don't Underestimate the Effect of Falls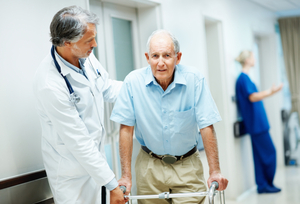 What do broken hips, traumatic brain injury, pneumonia and reduced mobility have in common? They can all result from falling…and they can all have a devastating impact on a senior's well-being. For many seniors, a fall is the "trigger event" that leads to a loss of health and independence.
The Centers for Disease Control and Prevention (CDC) tells us that each year over two million older Americans are treated in the emergency room for fall injuries. Almost 600,000 of these seniors are admitted to the hospital. And 20,000 seniors die from fall - related injuries each year. Senior falls cost our healthcare system over $20 billion each year. Family caregivers, too, are affected. According to Dr. Mary Tinetti of Yale University School of Medicine, "Falls are one of the most common health problems experienced by older adults and are a common cause of losing functional independence." Tinetti adds, "Given their frequency and consequences, falls are as serious a health problem for older persons as heart attacks and strokes."
Why are seniors at higher risk of falling? Most older persons, sooner or later, will experience problems with their eyesight, sense of balance, mobility, bone strength and reflexes. Medical conditions such as Alzheimer's disease, stroke, diabetes and Parkinson's disease are also known to raise the risk. Some risk factors are unavoidable. But we can control others. Making fall prevention a priority is worth the effort for older adults!
Top 5 Fall Prevention Resolutions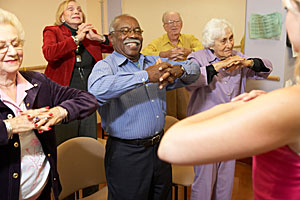 Awareness of the danger of falls is an important first step for lowering the risk—especially when it leads to making fall prevention a top priority. What other measures can we take to protect seniors from dangerous falls? If you are an older adult, here are five important things to do in 2012:
Talk to your healthcare provider about your fall risk. What health conditions may be increasing your risk? If you have experienced episodes of dizziness or if you think you may have a problem with balance, ask to have these conditions tested, diagnosed and treated.
Have medications reviewed by your doctor or pharmacist. Most seniors take a variety of medications, both over-the-counter and prescription. These medicines help us manage health conditions, but they may cause dizziness, drowsiness or other side effects that make it harder to maintain balance.
Perform a home safety inspection. Did you know that most fall injuries take place right in the senior's home? Look for hazards that could trip you up, such as uneven floor surfaces, throw rugs, poor lighting and clutter. Consider simple household safety modifications, such as grab bars in the bathroom, a second handrail on the stairs and improved lighting throughout the house.
Have your vision and eyeglass prescription checked. You should have an eye exam at least once a year. If you wear bifocals or progressive lenses, ask your doctor if a second set of monofocal distance glasses would be safer for exercise.
Add more physical activity to your life. Ask your healthcare provider for an exercise "prescription." A good fall prevention exercise program includes aerobic, muscle strengthening, flexibility and balance training activities. Read on to find out why exercise is so important when it comes to preventing falls.
Falling and Inactivity: A Dangerous Cycle for Seniors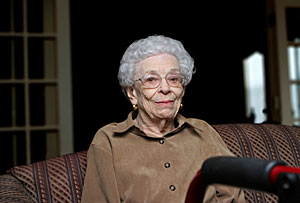 Last year, the American Geriatrics Society updated their guidelines on preventing falls in older people for the first time in over a decade. Their recommendations now include an exercise program for seniors, and they also examined the problem of the fear of falls. How are these two factors related?
For most older adults, a program of regular exercise is one of the most effective ways to lower the risk of falling. Exercise helps seniors maintain muscle strength, slows the loss of bone density, and keeps the joints and tendons more limber.
Ironically, one of the main reasons seniors give for avoiding exercise is that they are afraid they will fall! Experts tell us that the fear of falling is almost as big of a problem for seniors as falling itself. The fear of falling can trap a senior into a dangerous cycle: a senior experiences a fall…so he or she reduces their level of physical activity…which reduces muscle tone, energy and alertness…which actually increases the risk of falling…and the downward spiral continues.
Of course, being concerned about falls is a good thing if it motivates us to take positive steps to reduce the risk. Turn fear into action by keeping your New Year's fall prevention resolutions.
Fedelta Five
Not all falls can be prevented. No matter what our age, living an active life presents some risk. Fedelta Care Solutions recognizes this challenge, and offers resources to keep seniors active while protecting them from fall injuries:
Fedelta geriatric care managers can assess your loved one's fall risk and design a comprehensive fall prevention program.
Fedelta care managers help clients perform a home safety inspection, and can arrange for home modifications as needed.
Fedelta's in-home caregivers provide support and supervision in the home so clients may move about their home freely and safely.
Fedelta's in-home caregivers provide companionship and support as clients go for a walk or participate in their prescribed exercise program.
If a senior is recovering from a fall injury in the hospital, Fedelta elder care specialists can help the family locate the right nursing home or other rehabilitation setting for recovery upon discharge.