We take care of family
---
July 2011 Newsletter | Fedelta Home Care, Seattle WA
July 01, 2011
July 2011 Newsletter
Summer is here at last, and even though we've had a cooler than average spring, periods of hot weather will surely arrive. Working or playing in the sun, spending time in an unventilated home, or sitting in a closed vehicle can result in uncomfortable and even dangerous temperatures for anyone. But did you know that even though seniors may be the least likely to complain about the effects of summer weather, they are at highest risk for the dangers of extreme heat?
In this issue of the Fedelta Care Solutions
e-newsletter, we'd like to share some basic warm weather safety tips to help seniors and family caregivers stay cool and enjoy the summer season.

Protect Seniors from Heat-Related Illness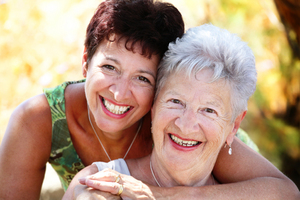 Even in our mild Northwest climate, hot weather can be dangerous. Seniors and families should be aware of the symptoms of heat exhaustion, which include dizziness, weakness, nausea and heavy perspiration. If ignored, these symptoms can progress to a dangerous condition called heat stroke. The symptoms of heatstroke are:
Body temperature above 104 degrees
Confusion, staggering
Dry, flushed skin with no sweating
Strong, rapid pulse
Headache
Unconciousness.
Heat stroke is a medical emergency. Call 9-1-1 right away. While waiting for help to arrive, move the person to a cooler place. Remove or loosen tight clothing, and apply cool, wet cloth or towels to the skin.
Why Are Older Adults More Susceptible to Heat?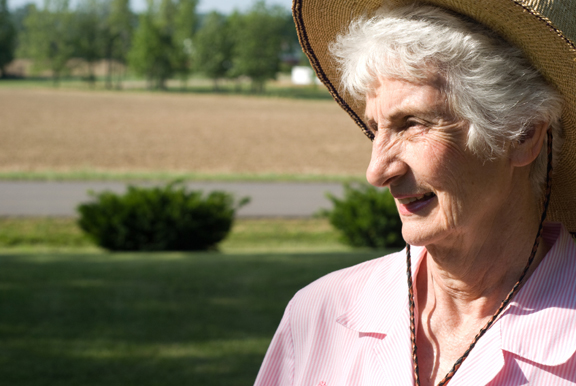 As we grow older, decreased blood circulation and a less efficient perspiration mechanism make it harder for our bodies to regulate temperature. Common health conditions such as cardiovascular disease, kidney or lung problems, or an unhealthy body weight are also a factor. Seniors are also more likely to take certain prescription medications that hinder the body's ability to cool itself.
During periods of high heat, check up on senior friends and relatives, especially if they do not have air conditioning. Here are some tips to share to help them remain cool and comfortable:
Drink plenty of fluids, even if you don't feel thirsty. (People on a fluid-restricted diet should consult their healthcare provider about staying hydrated during periods of heat.)
Wear short-sleeved, loose-fitting garments made of natural fibers.
Exercise and work outside only during the cooler hours of the day.
If your home is not air conditioned, open windows to let in cool air during early morning and evening hours. Close drapes and blinds to block the sun, and use fans to circulate cooler air.
Take a break during the warmest hours at a shopping mall, library, senior center, movie theater or other air conditioned place.
Safe Gardening Tips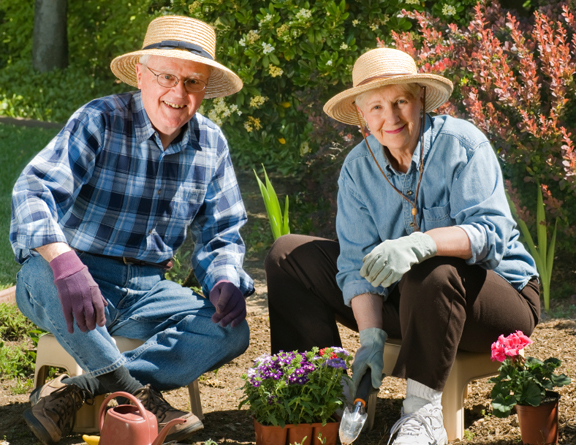 Summer time is garden time! Gardening is a great way to enjoy the fresh air, get some extra exercise, and save money on nutritious veggies, and fresh-cut flowers to brighten the home. Proponents of the home farm movement remind us that gardening is good for the environment. And American Society for Horticultural Science studies demonstrate that working in a garden enhances the quality of life for seniors.
To get the most out of gardening, remember these safety tips:
Use good body mechanics to avoid straining your back. Be sure to warm up and stretch like you would before any exercise routine.
Use a cushion or garden stool to protect your knees.
Wear gloves to avoid blisters.
Follow the directions carefully when using insecticides, fertilizer and other chemicals.
Avoid working in the garden during periods of high temperatures.
Keep tetanus and all other immunizations up-to-date.
Seniors who have mobility challenges from arthritis, osteoporosis or other health conditions can still cultivate beautiful blooms and delicious produce, using container gardens or raised beds.
Fedelta Five: Fall Protection
The summer months allow more opportunities for physical activity—but for seniors, this can also mean a higher risk of falls. Fedelta Care Solutions home care professionals offer these suggestions for decreasing the risk:
Remove clutter and obstacles from pathways.
Be sure eyeglass prescription is up-to-date.
Ask the physician to review all medications.
Have canes, walkers and other assistive devices professionally fitted, and learn to use them correctly.
Seek medical help for dizziness or balance problems, and take a balance training class.