We take care of family
---
June 2011 Newsletter | Fedelta Home Care, Seattle WA
June 03, 2011
June 2011 Newsletter
After our cooler than usual winter, warmer days will soon be here! For many of us, these more pleasant temperatures provide motivation to add more exercise to our routine. This is a good thing! Did you know that the Surgeon General's office lists inactivity as one of the most important public health problems in the United States?
Experts on aging agree: physical activity is the number one step seniors can take to stay as healthy as possible. In this issue of the Fedelta Care Solutions e-newsletter, we would like to share some of the latest information about exercise and aging.

An Inactivity "Epidemic" Among America's Seniors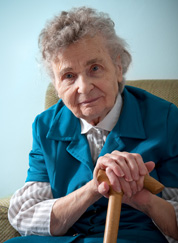 Gone are the days when the elderly were expected to spend most of the day in a rocking chair! Geriatricians today agree that no matter what a senior's health condition, physical activity helps avoid or break the "cycle of decline" that is unfortunately so common as we grow older. Here is the all-too-common pattern:
Chronic medical conditions and physical disability pose challenges to being active…which may cause seniors to shy away from an active lifestyle…which leads to loss of muscle tone and cardiovascular strength…which then leads to further inactivity…and a downward spiral can continue.
Interrupting this cycle with an appropriate exercise program offers a host of health benefits for older adults. Almost every senior can begin an exercise program, no matter what their health challenges. It's never too later to begin—or too early. As McMaster University professor Mark Tarnopolsky says, "There is no substitute for the real thing of exercise when it comes to protection from aging."
For Older Adults, Exercise Benefits Body, Mind and Spirit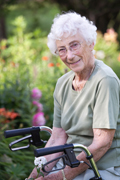 According to the American Medical Association, physical activity reduces the risk and slows the progression of a wide range of diseases, including:
Arthritis
Osteoporosis
Heart disease
Lung disease
Cancer
Type 2 Diabetes
Depression
The impact of exercise on brain health is equally impressive. A recent study from the Radiological Society of North America reports that a regular walking program slows cognitive decline—and this includes seniors who have already been diagnosed with Alzheimer's disease. Families should take note as well: University of Wisconsin professor J. Carson Smith says, "If you are at higher genetic risk for Alzheimer's disease, the benefits of exercise to your brain function might be even greater."
A "Prescription" for Exercise?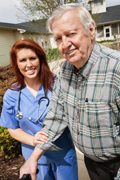 Almost any activity that encourages seniors to get up and moving brings benefits. But not all exercise is created equal. All older adults, especially those who are challenged by one or more serious health conditions, should consult their healthcare provider about the best and safest exercise plan.
The most effective exercise regimen for seniors includes:
Aerobic activity, which increases heart rate and breathing, bringing more oxygen to the body (for example: walking, dancing).
Muscle strengthening and flexibility exercise that keeps muscles and ligaments strong (for example: stretching, lifting weights).
Balance training, to prevent falls and enhance confidence in exercising (for example: balance classes, tai chi).
Find specialized senior exercise programs at senior centers, health clubs and through the parks and recreation department. Today many seniors also enjoy the aerobic and flexibility benefits of Wii and other active video game systems.
Family Caregivers May Neglect Their Own Physical Activity Routine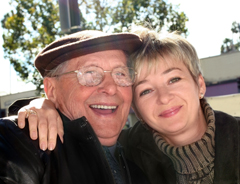 Family caregivers are busy people! Many are providing many hours of care per week for their loved one, while juggling a full work schedule, other family responsibilities, even caring for children of their own. It's easy to see why exercise falls to the bottom of their "to do" list. But providing care for an elderly or disabled loved one can take a toll on caregivers health, putting them at higher risk of heart disease, stroke, depression, diabetes—even Alzheimer's disease. Each of these conditions is directly impacted by the negative effects of inactivity.
Family caregivers should remember that caring for their own health is a vital part of providing care for their loved one. Respite time away from caregiving duties allows family to "recharge their batteries"—and that includes exercise.
Fedelta Five
Ways home care promotes physical activity for senior clients:
Provides encouragement and companionship as senior clients follow their "exercise prescription"
Keeps home and walkway free of clutter clients could trip over.
Transports client to exercise classes, to the park, or to the mall on rainy days.
Being alert for and reporting dizziness, medication side effects, or other health changes.
Giving family caregivers time off for their own fitness routine.