We take care of family
---
November 2011 Newsletter | Fedelta Home Care, Seattle WA
November 24, 2011
November 2011 Newsletter
Each November, we celebrate National Family Caregivers Month. 2011 has also been named "The Year of the Family Caregiver." Fedelta Care Solutions has been honored to provide support for many of these compassionate, resilient people over the years, and we salute them and the important role they play. Even if you aren't currently serving as a family caregiver, it's worth learning about this important issue. In the words of former First Lady Rosalynn Carter: "There are four kinds of people in this world: those who have been caregivers, those who currently are caregivers, those who will be caregivers, and those who will need caregivers."

Family Caregivers: A National Treasure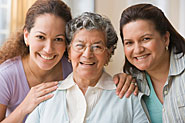 Who is a family caregiver? A family caregiver is anyone who provides care to an elderly or disabled relative. With the aging of our population, more and more Americans are stepping up to the plate to serve in this role. They perform health and personal care tasks; provide transportation; support their loved ones emotionally; and help keep them as active and independent as possible.
Family caregivers not only provide an irreplaceable service for their loved ones, but they are also a mainstay of our nation's long-term care system. A recent AARP study found that the economic value of this unpaid care has now reached over $450 billion—almost as much as the nation's total Medicare spending. There are now over 62 million family caregivers—equal to the population of Texas and California combined! And over half of all seniors with chronic disabilities live at home, receiving care from a family member.
Family Caregivers Should Remember Their Own Health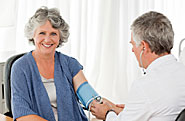 UCLA researcher Geoffrey Hoffman recently cautioned that family caregivers may be endangering their own health. Hoffman said, "This is the 'sandwich generation,' the group of people struggling to meet the needs of both growing children and aging parents while holding down full-time jobs. Caregivers need help, especially as baby boomers age."
According to the American Medical Association, many caregivers report that their own health has worsened since they took on the many new tasks of caregiving:
The American Heart Association says that caring for a disabled spouse can raise a caregiver's stroke risk by 23%.
The MetLife Study of Working Caregivers finds that those who are caring for an older relative are more likely to experience depression, diabetes and high blood pressure.
Columbia University Medical Center researchers say heart patients' family members often put their own heart health at risk by neglecting diet and exercise.
A University of Washington researcher found that spouses of Alzheimer's patients are themselves at higher risk of dementia.
Caregiving offers many emotional rewards, of course. Last month, an article in the New York Times reported that seniors who care for a loved one tend to be more active and engaged, and are more likely to report feeling a sense of life purpose. But the cautionary studies do remind us that taking care of the caregiver is a vital part of caring for the care receiver!
Caregiver Discrimination Cases are On the Rise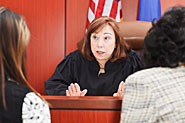 The aging of the baby boomers means that more employees find themselves juggling work responsibilities and care for a senior loved one. Many U.S. companies now recognize the need to support these valuable employees through family leave, flex time and employee assistance programs. The Equal Employment Opportunity Commission (EEOC) recently issued guidance to help employers avoid negative attitudes about caregivers, passing caregivers over for promotion, and other forms of caregiver discrimination.
Companies who permit caregiver discrimination just might find themselves in court. According to the Center for WorkLife Law, affiliated with the University of California Hastings College of the Law, caregiver discrimination litigation has increased 400% during the past decade. The Center educates companies about family responsibilities discrimination. Says the Center's Cynthia Thomas Calvert, "Fortunately, employers can protect themselves against these lawsuits. A good prevention program includes training supervisors so they can recognize the assumptions and be prepared to act in a more appropriate way."
Five Great Ways to Honor a Family Caregiver During Family Caregivers Month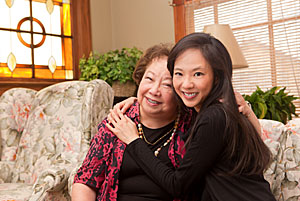 Send a card of appreciation, flowers, or perhaps a gift certificate for spa services.
Offer to spend time with the senior loved one so caregivers can take some time off doing something they enjoy.
Encourage caregivers to talk about their feelings. Ask "How are you doing?" and really mean it.
Reassure caregivers that it's OK to seek assistance from outside sources. Help them research home care, support groups and other services.
As the holidays approach, offer to help out with shopping, cooking, baking and other seasonal tasks that add to a caregiver's workload.
The best gift? Expressing appreciation…accompanied by asking caregivers what would be most helpful for them! Are there errands you can run? Could you offer respite on a regular basis? Get it on the calendar!
Fedelta Five
Fedelta Care Solutions is proud to support family caregivers with a wide range of senior care solutions.
Fedelta's Geriatric Care Managers assess the needs of seniors and family, locating care solutions that work for everyone.
When family live at a distance, Fedelta Elder Care Specialists serve as an important liaison, coordinating care and providing peace of mind for seniors and family alike.
Fedelta in-home caregivers provide companionship and personal care during times when family are busy with their jobs and other family responsibilities.
Fedelta Care Solutions experts help seniors and families select a senior living community, if that is the best choice.
The presence of a reliable, professional Fedelta in-home caregiver allows family caregivers to enjoy well-earned respite—time to "recharge their batteries" and reduce stress.