We take care of family
---
Understanding Your Senior Living Options
March 02, 2011
Understanding Your Senior Living Options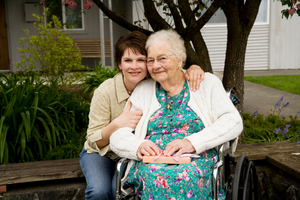 Mom isn't getting around as well as she used to. The family worries about whether she is taking her medications as directed, and they notice that she is "letting herself go." She seldom attends her usual social events and outings. And the house isn't as spotless as she's always kept it.
"Is it time to move?" Most older adults ask themselves this question many times before they make the final decision. If you or a senior loved one is looking into the options, it may seem overwhelming—especially if a sudden health crisis forces the decision faster than you expected.
The decision about where to live can make a huge difference in quality of life and well-being for seniors and family alike. Today there are more senior living options to choose from than ever before. Here is an overview of retirement housing choices:
Senior Housing refers to any type of housing limited to people over a certain age. It may be subsidized for lower-income seniors. The emphasis is on independent living, with few, if any, services offered.
Retirement Living Communities offer independent senior living in apartments, town homes or detached homes. They serve seniors who are generally in good health and do not provide personal care or health assistance. Many offer services such as housekeeping, dining, transportation and activities.
Continuing Care Retirement Communities (CCRCs) offer a full range of care, ranging from independent living to assisted living to skilled nursing care, all in one complex or "campus." Some CCRCs charge a straight monthly rental. Others require an up-front "buy in."
Assisted Living usually includes a private apartment and services such as help with personal care needs, some health care services, housekeeping and a recreation program.
Adult Family Homes are single-family homes licensed by the state to provide room, board and support services, on a short-term or long-term basis.
Skilled Nursing Facilities (nursing homes) provide extended care for frail or chronically ill seniors who require a high level of skilled nursing care and medical supervision.